This summer I worked in Boston at a sesonal hostel we like to refer to as "HI-Back Bay." If you don't know what a hostel is, you should go directly to the links leading to Hostelling International's homepage and find out!
Beacon Street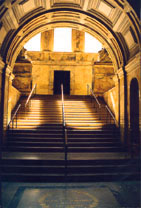 The Boston Public Library where I spent the bulk of my free time.

Hostelling International
Tribute to the Fabulous one....


Return to the Junk Drawer